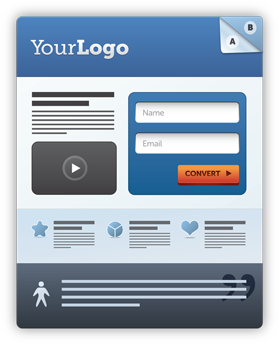 Let's begin by addressing what a landing page is. In relation to businesses, this is most commonly referred to as the main standalone page that is distinctive in some way to your main website. This creative method is designed specifically for a single objective or marketing campaign. It is a resourceful way to direct traffic to a particular event, sale, or purpose with the intent of converting them into customers.
There are 2 different types, one is geared almost entirely toward lead generation and the other offers click-through features. The following explains the difference between these two things:
Click Through:
The main objective of this is exactly as it appears; it is to entice the targeted audience to click-through for more information. You will frequently see this attached to a product. The first contact may show a large photo of the product with a brief description, while the next may offer more intricate details about this particular item and then ultimately lead breadcrumbs to the check out cart. Poorly constructed pages will lead customers directly to the shopping cart and thus lose the ability to inform the consumer properly. In this day and age, e-commerce consumers are smarter than ever and want to gain a full working knowledge of what is being offered. With the right product offering, click-through landing pages may be the solution to obtain higher conversion ratios.
Lead Generating:
You may hear the term "lead gen" or "capture pages" when referring to this style.  This is created with one purpose: to collect information.  Data captured would include things such as email address, phone number and name, with the sole purpose of reaching out to that prospect at a future time. You will see this most often with businesses running special offers, promotions, special giveaways, consultation services, registration forms and coupons. This form can range from very basic to lengthy but it is recommended to limit the amount of information you would like to capture.  Those completing the form do not want to spend needless time filling things out, so sticking to the basics typically works best.
 Whatever your business type or product offering, Purpose Advertising is a full service marketing agency located in New Jersey  that is fully equipped to assist you with things from Search Engine Optimization  to complete Web Design.